I LOVE projects and since I've allowed my project-love to spill over into our homeschooling, I couldn't resist a review of the lapbook projects available from Home School in the Woods. We recently reviewed HISTORY Through the Ages Hands-on History Lap-Pak: U.S. Elections and I'm thrilled to bring you our results.
This review was facilitated by Schoolhouse Review Crew  and Home School in the Woods.
About HISTORY Through the Ages Hands-on History Lap-Pak: U.S. Elections
The Elections Lap-Pak introduces students to the presidential elections process here in the United States. This was a perfect time for this project, as my son has had a number of questions about our current presidential race. It was quite helpful to be able to walk him through the process with these hands-on activities. Here are the highlights:
Appropriate for grades 3-8
Includes 21 lap booking projects (see below)
Includes a 24-page reading booklet
Includes narrated audio text
Projects include step-by-step instructions and a photo of the finished project
The lap-pak is available via CD ($19.95) or Download ($18.95). We used the downloaded version, which includes all of the required components, clear instructions and links so the pages can be accessed using an internet browser.  All of the project pages were easy to print, with the exception of the reading booklet. There are several variations of instructions for printing the booklet, but we never quite got it to print correctly.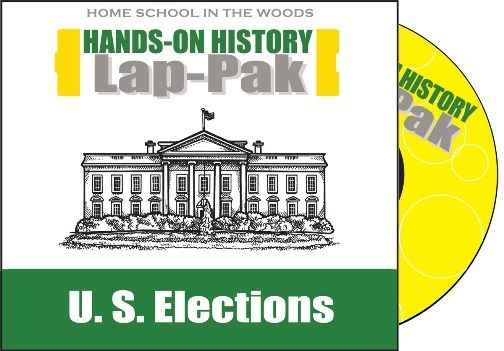 Included Projects:
Definition of "Election"
Different Forms of Government
The American Experiment
The Three Branches of Government
Suffrage
Who Do We Vote For?
Terms of Office
A "Handful" of Political Parties
Caucuses & Primaries
National Conventions
The Presidential Campaign: Platform
The Presidential Campaign: Stump Speaking

The Presidential Campaign: Media — News Source
The Presidential Campaign: Campaign Advertising — Spreading the Word!
Raising Money
Statistics
Election Day
The Electoral College
Inauguration Day
The Electoral Race!
The "Vocabinet"
Our U.S. Elections History Lap-Pak Review
I work hard to center our homeschooling activities around history. My son loves it, so keeping history in the forefront makes our days a bit easier. Things are also easier when we have a variety of activities that help break up the monotony of the day and when those activities are hands-on and creative, that's a huge plus as well.
Can you see why I was drawn to Home School in the Woods and their lap-paks?
The U.S. Elections HISTORY Through the Ages Hands-on History Lap-Pak definitely made for a stress-free history class.  My star student followed along in the reading packet as the narrator read each lesson, then we worked together to finish the hands-on projects. He was able to research, expand and apply creativity to the projects and we had several conversations about the current presidential race, which were enlightening for him and often hilarious for me! Our rating: an unquestionable 5 mamas. Here's why:
[1] It makes mama's life easier, taking stress out of homeschool history time.  [2] It's kid approved. [3] It delivered what was promised. [4] It's affordable. [5] It's unique in its comprehensiveness. It's also cleverly put together, user-friendly and extremely easy to implement.
You can be sure I'll be purchasing more of their products! If you've tried the Elections Lap-Pak (or any of their products), I'd love to chat about it in the comments below or on Facebook and Twitter. Be sure to check out what the other Schoolhouse Review Crew members thought by clicking the green banner below.
Get Social with Home School in the Woods: Facebook | Google+ |  Pinterest | Twitter
Anitra is the founder of The Mama Zone and she's been sharing useful tips for mom here since 2009.