This shop has been compensated by Collective Bias, Inc. and its advertiser. All opinions are mine alone. #SootheYourSoreSpots #CollectiveBias
Moving is a stressful undertaking and deciding to move yourself, rather than hiring movers, definitely adds to that stress. Thankfully, there are a number of things you can do to make your DIY move easier. Read on for tips and find out how to alleviate some of that moving pain when you build your own first aid kit at Target.
Simplify Your DIY Move
Get started early.
Nothing will make your move harder than waiting until the last minute, so start planning and packing early. Some things you don't want to put off include renting the moving truck and giving your potential moving helpers an early heads-up. Procrastination could cost you money and add stress, so get started as soon as you know you're moving.
Get rid of stuff first.
Before you pack a single thing, go room to room and get rid of all the stuff you no longer use or need. I hate moving things that I know won't be used, so instead of wasting the effort, I donate, toss and sell like a mad woman. Doing this first gets the excess out of the way and makes it easier to organize your mom.
Get organized.
We've entered the double digits when it comes to changing addresses, and if I've learned anything, it's that a messy move is a stressy move (see what I did there 😆 ). If you don't stay on top of things, a room full of boxes will turn into a room full of chaos that will stop you in your tracks. I prevent this by clearly labeling every box and working to keep the boxes in the room they belong in. Another fun way I stay organized is by setting up a packing station.
Choose a spot near the kitchen where you can keep your moving supplies in one place.  Mine includes tape, markers, scissors, box cutters, tape gun and labels and I keep my boxes and bubble wrap stacked nearby.
During our most recent move, I had the genius idea to add a first aid kit to my packing station. No more looking for the band-aids when I inevitably cut myself or the BENGAY® products when that end-of-the-packing-day pain hits.
I built my first aid kit at Target using Oh Joy! BAND-AID adhesive bandages (20 ct.), Neosporin® Plus Pain Relief antibiotic cream (1 oz.), Motrin® Pain Reliever and Fever Reducer Caplets (100 ct.) and my moving must-have,  BENGAY® Ultra Strength Cream (4 oz.). BENGAY® Products are a great way to address minor aches and pains, and keeping it in my packing station makes it easy to sooth soreness throughout the move.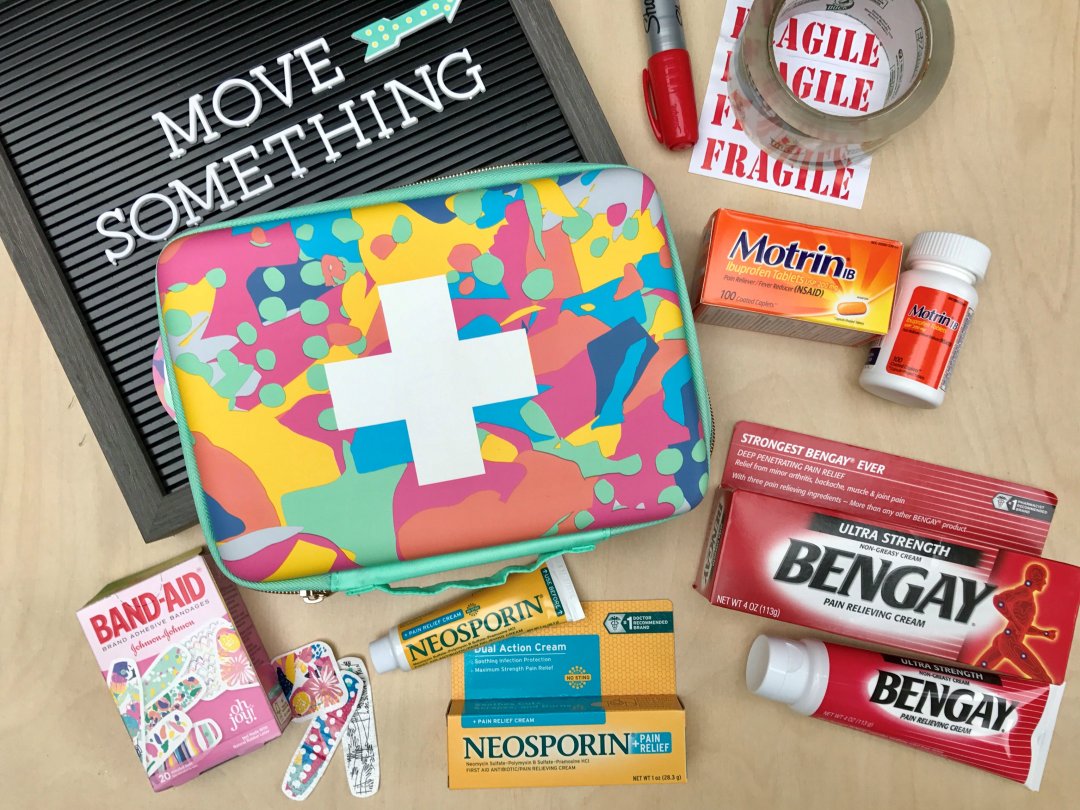 As an added bonus, when you buy 3 participating Johnson & Johnson first aid products at Target, you get a carrying bag free. Choose the Oh Joy Bag pictured or the Red Bag, which you can see online or in store. Hover over the shoppable image above to shop for these items now.
Get help.
Let your good friends know you're moving and find out who's free to help. If you can't get friends, consider hiring help from a service like Bellhops–our move with them was one of the easiest yet. Whoever you choose, remember the tip about planning early and also remember to treat your helpers well and have fun.
Get the right tools.
When you're moving yourself, it's important to use the right tools. This will keep you from getting injured and keep your things from getting broken. Opt for sturdy moving boxes and rent tools like a hand truck or dolly from the place where you rent your moving truck. If you have old blankets, you can possibly skip renting moving blankets. We also always use the large moving plastic wrap to wrap anything with doors or drawers.
And with that, you should be able to rock your next DIY move! Look for another post with all my moving tips and tricks soon. In the meantime, remember to stop by Target for your first aid kit or do what I did and shop online. Either way, don't forget the BENGAY® Ultra Strength Cream. You'll thank me later.
©Johnson & Johnson Consumer Inc. 2017 The third party trademarks used herein are trademarks of their respective owners.
Anitra has been sharing useful ideas for moms at The Mama Zone since 2009. She's a wife, mom of two and an elementary school teacher, turned homeschooling mom. She's also an online influencer and ebook author who enjoys writing to help other moms and to build strong families.