This review was facilitated by Schoolhouse Review Crew and The Trigger Memory Co.
We're back with another homeschool curriculum review. We're improving multiplication skills with a digital product called Times Tales from The Trigger Memory Co. If you're looking for a quick way to teach the upper multiplication facts, you'll want to check this out!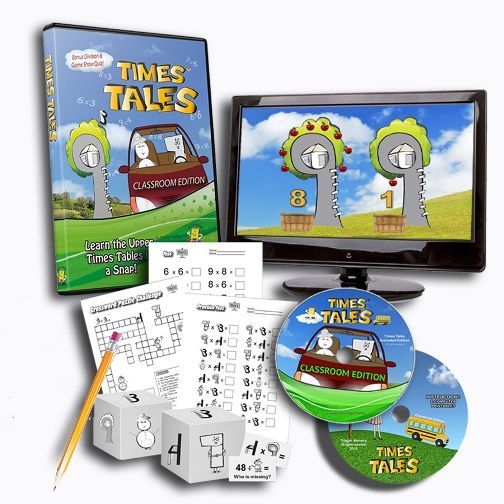 About Times Tales
Times Tales is a video-based program aimed at making it fun and easy to memorize the upper multiplication facts. It's available on DVD or digital download and it's a clever, mnemonic-based program that easily engages students.
Times Tales uses simple stories to give students, what they call, a "memory peg." These stories lead to quick recall of multiplication facts that are often difficult to master.
We reviewed the digital version, which includes two video files (Part 1 & Part 2) and three printable PDF files. The program offers the following:
2 Video Lessons (Covering these multiplication facts: 3×6, 3×7, 3×8, 3×9, 4×6, 4×7, 4×8, 4×9, 6×6, 6×7, 6×8, 6×9, 7×7, 7×8, 7×9, 8×8, 8×9, 9×9)
Printable Tests
Printable Crossword Puzzles
Printable Flaschcards for Multiplication and Division
Printable Cube Game

According to the website, the total learning time is just one hour and even kids as young as 5 can recall the upper times tables after watching the videos.
Our Times Tales Review
I definitely reccomend this. My son is a very bright student but it's taken quite some time for him to nail down the multiplication facts. I tried EVERYTHING I knew to do and then some. I sure wish I'd found Times Tales a lot sooner.
The mnemonic devices the program uses go a long way toward helping children memorize and recall multiplication facts. They're cute stories that are simple to understand, making recalling them quite easy.
I also like that the program makes the connection between multiplication and division. This was a boost my son needed and we are not struggling with multiplication like we were before.
TRY IT FOR YOURSELF WITH THIS FREE DOWNLOAD OF THE UPPER 9s MULTIPLICATION FACTS.
And we've given it 5 mamas.
[1] It makes mama's life easier.  [2] It's kid approved! [3] It delivers what was promised. [4] $19.95 is definitely a reasonable price.  [5] The approach is quite unique.
So, go buy it! Click the banner below to see what other Schoolhouse Review Crew members thought. Are you familiar with Times Tales or The Trigger Memory Co.? Let's chat about it in the comments!
Get Social with The Trigger Memory Co.:

---
You're in the Trial Zone. Get post updates by email or become an Insider to stay on top of everything in The MamaZone.
---