I have received information and materials from ©Johnson & Johnson Consumer Inc. 2017. The opinions stated are my own. This is a sponsored post. #ForBetterTomorrows #BetterTomorrows #FallBack #CollectiveBias
Between homeschooling, homemaking, and working from home, my days fill up pretty quickly. Nothing makes those full days harder than a bad night's sleep, and since our bed is dying a slow death, I've had some hard ones. And, when you add a failing mattress to a day of mom-stress, you get an achy neck, back and shoulders. It can be a vicious cycle that leads to some unbearable days, so I've learned to address this with my nightly routine.
There are a few things I do most nights that help make my days a bit more manageable. This makes for a more productive, less grumpy mom who can do all the things she needs to get done. Let me share them with you to help you prepare for #BetterTomorrows too.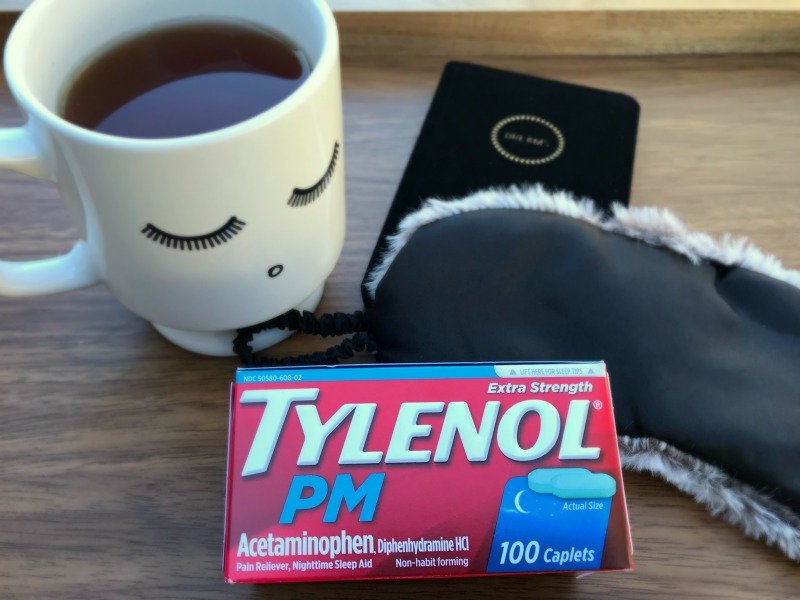 Address the aches and pains.
Remember that dying mattress I mentioned? I'm pretty sure its sole remaining purpose is to aggravate my neck and back. My muscles are tense and tight enough after my busy days. So my nightly routine starts with addressing those little nagging aches so I can actually sleep.
TYLENOL® PM helps with that. It relieves those minor aches and pains while helping you fall asleep. It's non-habit forming when used as directed, so you can grab it when you need it without worrying. It helps you get a good night's rest so you can tackle the day's routine without pain.
Hover over the image above to grab a box from Walgreens now.
Wash your cares away.
A hot shower or a warm bath is a great way to ease into a good night's sleep. It'll work in tandem with TYLENOL® PM to help relive the minor pains of the day. I opt for the warm bath when there's enough time and I add some Epsom Salt and essential oils like lavender and frankincense. When I only have time for a shower, I still dab a few drops of oil on a towel and put it on the shower floor. Instant spa moments.
Turn off blue lights.
I have to thank my husband for this one (although when he first brought it up to me, I told him he was crazy!). Did you know your electronics emit a blue light that makes your brain think it's still day? This includes your cell phone, iPad, laptop and TV. Turning them off early in your bedtime routine gives your brain a better chance of a restful sleep. It's a hard habit to form, but it will lead to better rest.
Pour yourself a cup.
I love that moment when morning coffee turns into night-time tea. It's like a note to the world that the day is done and I've tackled my to-do list well. Almost any herbal tea will do as long as it's caffeine-free. I'm all about the citrus flavors these days. Just go with what relaxes you most.
Stretch it out.
This was supposed to be my year to start Yoga. I suppose I still have 46 days to reach that goal, but in the meantime, I'll stick with some light stretching. This is another way I help myself relax before bed. It helps my body wind down a bit and will have to do until I finally get to that Yoga.
Write the day away.
I love journals. I have so many of them that I'm considering getting a small bookshelf for my bedroom. It's a great way to get what's racing through my mind down on paper and a great way to decompress after a long day. I've started something new recently–a few times a week, I write down all the things I'm grateful for. I've found that bedtime is the perfect time to do this. I go to bed thankful and that contributes to restful sleep.
I may not get this all done every single night, but there's always some combination of this process going on as I prepare for bed. Here's hoping they'll help you get a good night's sleep so you can tackle your tomorrows like a champ. Start with the TYLENOL® PM and go from there! Remember, you can find it at Walmart (see exactly where below) and visit TYLENOL® on Facebook and YouTube for more information.
Psst…Pin this to save and share!
Larger image will open in Pinterest window
TYLENOL® PM contains a pain reliever and nighttime sleep aid. ©Johnson & Johnson Consumer Inc. 2017 The third party trademarks used herein are trademarks of their respective owners.
Anitra is the founder of The Mama Zone and she's been sharing useful tips for mom here since 2009.