This shop has been compensated by Collective Bias, Inc. and its advertiser. Product was provided by the client for review; however, all opinions are mine alone. #WorldsSmartestToothbrush #PhilipsSonicare #OprahsFavoriteThings #CollectiveBias
I love giving holiday gifts! I get excited about everything from the shopping to the coordinating wrapping paper and I work hard each year to get everything just right. Another thing I do every year is find inspiration from Oprah's Favorite Things. Her 2017 list featured the Philips Sonicare DiamondClean Smart 9500 and that got me moving in the right direction for my husband.  I'm excited to tell you how pleased he was to see the Philips Sonicare DiamondClean Smart 9300 Rechargeable Toothbrush under the tree and to offer you some tips on how to gift like Oprah.
Five Ways to Gift Like Oprah
Do Your Research.
Okay, so you may not have a team of helpers like Oprah, but you can still do your research. It was research that led me to the Philips Sonicare DiamondClean, which turned out to be a very cool gift for my husband. He is the best in my book, so he deserves Philips' best ever toothbrush for complete oral care. I needed to find a gift that said I had his needs and interests in mind and an electric toothbrush with smart brush heads and an app with feedback and personalized coaching does just that.
Think Outside the Box.
While I love wrapping things up in pretty boxes, if Oprah's list teaches us anything about gifting, it's to think outside the box. Go off the beaten path and choose gifts that show you've done that research. Don't just give a gift, give the best, most unique version of that gift that you can afford. In my case, I could have picked any toothbrush for my guy, but I opted for the number one brand recommended by dental professionals.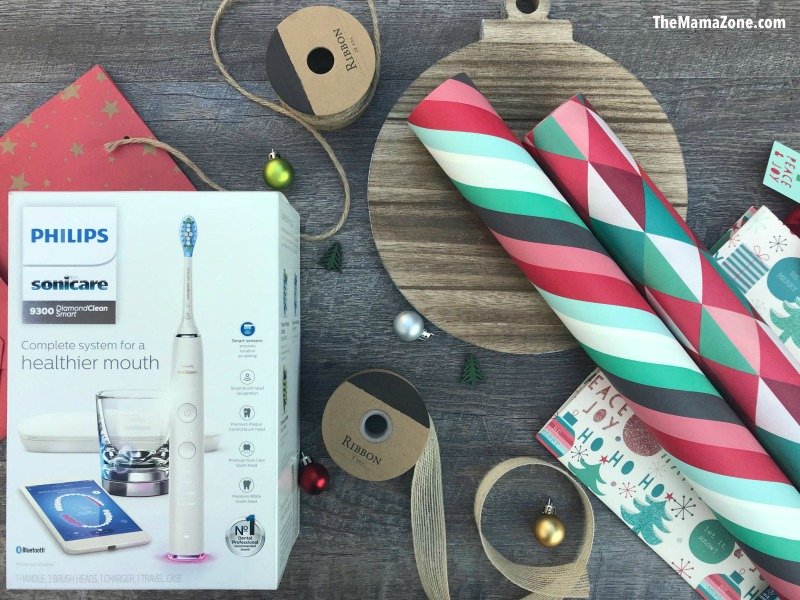 Hover over the image above to wow someone with a Philips Sonicare DiamondClean Smart 9300 Rechargeable Toothbrush
Choose Practical, but Clever Gifts.
Oprah's Favorite Things is always filled with practical, yet clever gifts. Everything is completely usable and meets a need for the recipients, but they go the extra mile by being conversation pieces as well. These are the best gifts in my book. Forget about bits and baubles that will end up collecting dust and opt for something useful, yet unique.
Give Gifts That Keep on Giving.
Whether it's cozy slippers, copper pots or a cashmere sweater, do your best to find a fun gift that will last your favorite people for a while. I love my guy's smile so I'm excited about how the Philips Sonicare DiamondClean will help keep his smile healthy, while helping him care for his whole mouth, teeth, gums and tongue. Plus, I'm pretty sure he'll think of me every time he brushes. It's a gift that will keep reminding him that I care, even when he's traveling.
Presentation is Everything.
After you've done all the work of finding a great gift, don't just phone it in by tossing it into an old gift bag. Around here, we opt for coordinating wrapping paper (one for each kid and a third one for the adults). And, instead of store-bought tags or labels, I print out photos from the previous year to use as gift tags. This not only indicates who the gift is for, it gives us a chance to see how the kids have grown through the year. It's one of those outside of the box/extra mile touches I recommend–give an awesome gift and wrap it beautifully. If wrapping isn't your thing, snag the snazziest gift bag you can find or get one of Santa's helpers to wrap it for you.
Use those tips to gift like Oprah and give your loved-ones a holiday to remember. If you know someone who would love the Philips Sonicare DiamondClean toothbrush, hover over the second image above or pick it up from Amazon. It's great for tech-lovers and anyone else who'll appreciate the Sonicare app, the 4 brushing modes and the fact that it's rechargeable.
I'll leave you with a bonus tip in your quest to gift like Oprah: Be generous. Give big, and not just during the holidays, but throughout the year. Here's hoping your holidays are filled with memorable moments and unforgettable gifts. Use these tips to make that happen. Merry Christmas!
Psst…Pin this to save and share!
Larger image will open in Pinterest window
Anitra has been sharing useful ideas for moms at The Mama Zone since 2009. She's a wife, mom of two and an elementary school teacher, turned homeschooling mom. She's also an online influencer and ebook author who enjoys writing to help other moms and to build strong families.