This post contains referral links. Thanks for using them to sign up!
I have been having a blast on new site called dealspotr. It's a website that allows you to earn points for posting deals and interacting with the community. Read on for more details and an opportunity to start out with 50 points just for joining me!
What is dealspotr?
Dealspotr.com is social site for finding and sharing coupons and deals. After signing up, users can post the money saving opportunities they find and comment on deals that are already posted. Users earn Karma points for posting deals and when others vote on those deals. Karma points can be redeemed for gift cards. It's a great way to find savings on almost anything you're shopping for and a great way to earn rewards.
Why should you join dealspotr?
If you like deals like I do, the answer to that question is a no-brainer. I've been posting on the site for about two weeks and I've already earned $15 extra dollars to use on amazon.com. I've also snagged some very helpful deals since the site is teeming with deals and coupon codes. In short, the website is pretty darn awesome all around.
[Tweet "Get started on dealspotr.com. Post and find deals and coupon codes while you earn rewards! #savemoney"]
The more you post on the site, the more you're able to learn and, as you earn Karma points, you advance through a series of levels. One way to advance is to share your referral code with friends, so here's mine: https://dealspotr.com/?join=zonemom. Sign up using my link and you'll start off with 200 points. That will get you well on your way to the first threshold of 1000 points, where you'll snag your first $5 giftcard. Plus you'll earn points when friends sign up and level up (now, what are you waiting for?!).
If you use the site (or decide to start using it), I'd love to hear your thoughts. I'd also love to hear about any huge savings you find, so let's chat in the comments or on Facebook and Twitter. Happy deal hunting!!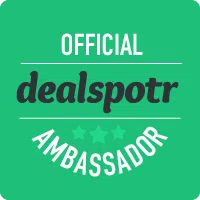 ---
You're in the Save and Earn Zone.Get post updates by email or become an Insider to stay on top of everything in The MamaZone.
---
Anitra has been sharing useful ideas for moms at The Mama Zone since 2009. She's a wife, mom of two and an elementary school teacher, turned homeschooling mom. She's also an online influencer and ebook author who enjoys writing to help other moms and to build strong families.